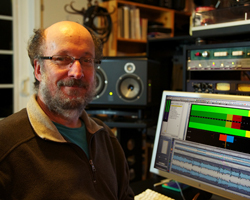 The Hanzsek Audio philosophy: Offer the highest quality mastering services at the most competitive rates possible, while at the same time provide attentive, reliable service to clients. We aim to build trust and deliver excellence.Chris Hanzsek combines over three decades of studio experience with a fast and flexible array of mastering tools located in a uniquely creative work environment.Clients have the option to work "by wire" (via FTP transfer) or attend the mastering session in person.
MONITORING


Focal SM-9
Genelec 8040A

CONVERSION


Apogee Rosetta 200
Manley SLAM digital

DIGITAL PROCESSING


Apple Logic and Steinberg WaveLab platforms
Universal Audio QUAD and DUO processors

ANALOG PROCESSING


Summit, Manley, Focusrite compressors and equalizers

LOCATION RECORDING


Mackie Onyx 1640
Summit, Focusrite, Symetrix pre-amps
AKG, Audix, Beyer, Neumann, Rode, Sennheiser, Shure microphones

HUMAN BEING


Vintage unit in excellent condition with 2 ears, brain, excellent communication skills. Works well with a wide variety of individuals and styles of music.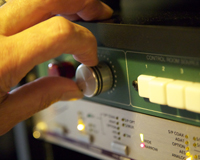 Mastering cost is assessed using either a flat fee per song basis or calculated using an hourly rate. The flat rate is used most often for simple mastering procedures, the hourly rate will be used for less common scenarios such as projects involving extremely short or long songs, extremely varied content (compilations), mastering from stems, etc..
FLAT RATE
The flat rate includes sequencing for disc masters (if applicable), inclusion of metadata, file transfers, disc burning, and DDP file set creation.
FLAT RATE
# of Songs
Price
1 song
45.00
2 songs
80.00
3 songs
105.00
4 songs
130.00
Additional songs
+ 25.00 each
FLAT RATE (including 2nd master output optimized for vinyl reproduction)
# of Songs
Price
1 song
50.00
2 songs
90.00
3 songs
120.00
4 songs
150.00
Additional songs
+ 30.00 each
HOURLY RATE

75.00 per hour



PAYMENT POLICY
An invoice will be sent to you upon receipt of the work order (including files, sequence, and title info).



PAYMENT MUST BE RECEIVED BEFORE PROOFS AND FINISHED MATERIALS WILL BE DELIVERED.




Payment can be made by check (preferred), or Paypal (email address is linked to account).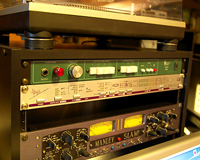 PROJECT SUBMISSION
Files can be sent to Hanzsek Audio using FTP - Dropbox, WeTransfer, or any common file share service is acceptable. We also have our own dedicated server space for those inclined to use an FTP utility (log-in available upon request).An invoice will be delivered immediately to the purchaser upon receipt of mix files and sequence instructions Mix files should be in WAV or AIF format, preferably 24 bit, stereo interleaved. Mixes can also be sourced from 1/4" (15 ips) or 1/2" (15 and 30 ips) half-track analog tape. Return shipping costs will be added to the final invoice. CD and vinyl pre-master projects should submit a sequence (song order) and title list (for both disc and songs), as well as any special instructions for sequence editing. For complex sequence edits, a "guide file" may be submitted to assure correct timing of the finished master. TURN-AROUND TIME
Work is completed on a first come, first served basis. Typical turn-around time is 2-4 days after mix files and sequence instructions have been received. PROOF AND REVISION
All mastered files are subject to client approval. Mastered proof files or disc sequence proof files are provided in WAV or DDP 2.0 format. (DDP player provided, no installation required.) A minimum of one revision will be provided free of additional charge, should adjustments be needed.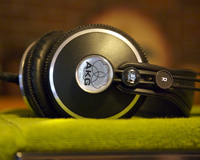 Standard delivery of mastered files is in the form of 16 bit 44.1K WAV format. 24 bit files provided at no additional charge upon request. Additionally, delivery as a CD disc master can be made using any of three methods: 1. DDP 2.0 image file set - includes a DDP player with disc burn and file export capability 2. WAV files with gaps included in file ends - allows simple "end-to-end" sequence reassembly for those unable to utilize the DDP player 3. Vinyl Pre-Master - two 24 bit WAV files (Side A, Side B format), PDF timing document